A series of adverts on London's transport network promoting disposable vapes have sparked outrage among environmentalists and councils, who accuse the company behind them of making misleading green claims. The adverts, which feature the slogan "Recycling for a greener future", are for Elfbar, a brand of single-use e-cigarettes that are made of plastic and contain a lithium battery. However, these products are not recyclable and create a huge amount of waste, litter, and pollution.
According to Greenpeace, disposable vapes are one of the new defining images of our single-use throwaway culture, and are close to impossible to recycle. The charity said the adverts were a blatant attempt to bath an environmental menace in a thin veneer of greenwash. Anna Diski, plastics campaigner at Greenpeace UK, said: "What other piece of tech is designed to be thrown away so quickly? Despite any claims to the contrary, they're close to impossible to recycle."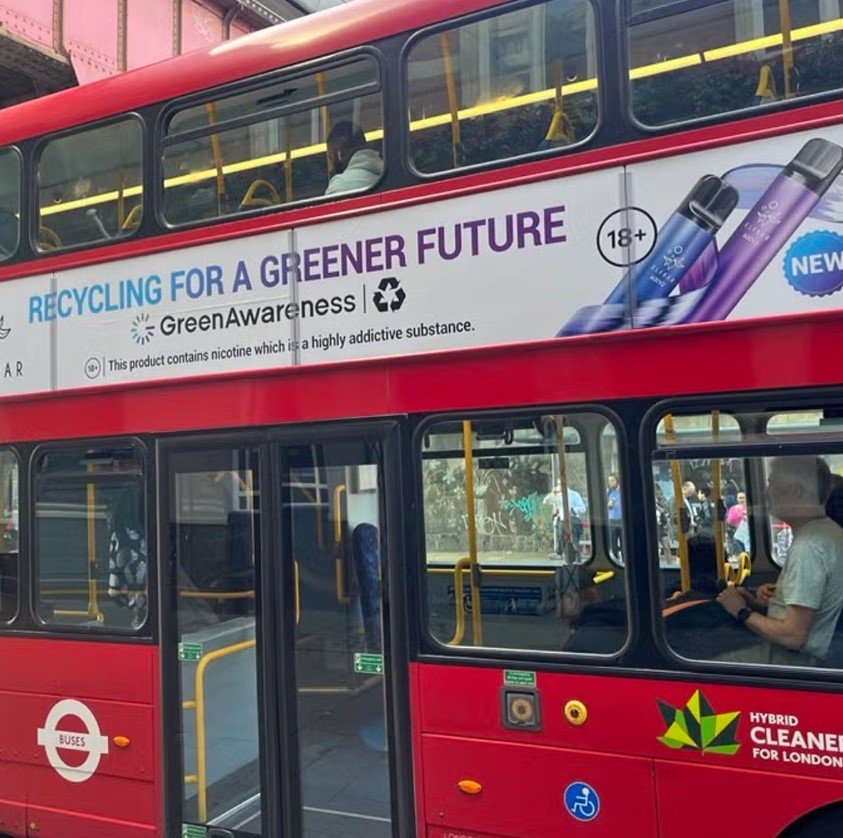 The hidden costs of disposable vapes
Disposable vapes are designed as one unit, so the batteries cannot be separated from the plastic. This makes them extremely difficult to recycle, as they require special treatment. The Local Government Association (LGA), which represents councils in England and Wales, recently called for a total ban on disposable vapes, saying they were almost impossible to recycle without going through special treatment.
The LGA also warned that disposable vapes pose a fire risk, as they can ignite when crushed in bin lorries or at waste facilities. In addition, disposable vapes contain a small amount of precious lithium, which is a vital component in electric car batteries. It is estimated that around 1.3 million disposable vapes are thrown away every week in the UK, resulting in a loss of 10 tonnes of lithium per year. This is enough to power 1,200 electric vehicles.
The advertising watchdog is reviewing the complaints
The Advertising Standards Authority (ASA) said it was reviewing two complaints about the Elfbar adverts, which are carried on the side of some London buses and on bus stands in the capital. The ASA said its rules make it clear that any claims in ads, including green claims, need to be backed up by sufficient evidence.
Transport for London (TfL) said it worked with advertisers to ensure any e-cigarette campaign running on its estate complies with the latest rules by the ASA and has appropriate messaging. A TfL spokesperson said it met the ASA regularly and would raise these concerns about how easily these products can be recycled as part of its ongoing discussions.
Elfbar told the BBC it had developed new products that came apart, making them easier to recycle. It also said it was introducing more recycling facilities and trying to encourage recycling through campaigns.