The Miami Dolphins pulled off a thrilling 24-17 victory over the New England Patriots on Sunday night, thanks to some clutch plays by Tua Tagovailoa, Raheem Mostert and the defense.
Tagovailoa shines in primetime
The Dolphins quarterback had a stellar performance against the Patriots, throwing for 466 yards and three touchdowns, with no interceptions. He completed 35 of his 48 passes, and had a passer rating of 131.4.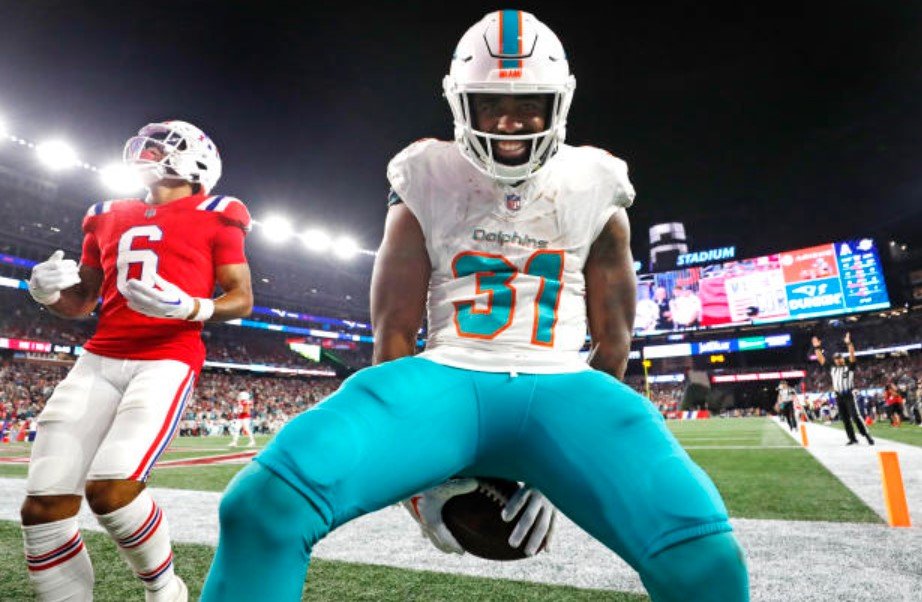 Tagovailoa showed his poise and accuracy throughout the game, especially in the fourth quarter, when he led two scoring drives to erase a 17-14 deficit. He connected with Tyreek Hill for a 75-yard touchdown bomb, and then found Mike Gesicki for a 12-yard score with 1:42 left in the game.
Hill was Tagovailoa's favorite target, as he finished with 215 yards and two touchdowns on nine catches. Gesicki had seven receptions for 86 yards and a touchdown, while DeVante Parker added six catches for 72 yards.
Mostert runs wild on Patriots defense
The Dolphins also got a huge boost from their running game, as Raheem Mostert ran for 124 yards and a touchdown on 18 carries. He averaged 6.9 yards per carry, and broke several tackles along the way.
Mostert scored the first touchdown of the game, on an 8-yard run in the first quarter. He also had a crucial 23-yard run on third-and-10 in the fourth quarter, setting up Tagovailoa's touchdown pass to Gesicki.
The Dolphins outrushed the Patriots 156 to 88, and averaged 5.2 yards per carry as a team.
Dolphins defense holds off Patriots comeback
The Dolphins defense also came up big in the final moments of the game, as they stopped the Patriots from tying the game. The Patriots had a chance to force overtime, as they drove to the Dolphins' 34-yard line with 16 seconds left.
However, Mac Jones' pass to Gesicki was incomplete, and then Gesicki tried to lateral the ball to Cole Strange, who was tackled just short of the first-down marker by Jerome Baker. The play was reviewed and confirmed, and the Dolphins celebrated their win.
The Dolphins defense sacked Jones four times, and intercepted him once. They also forced a fumble by Demario Douglas in the first quarter, which led to Mostert's touchdown. The Dolphins held the Patriots to just 319 total yards, and 4.8 yards per play.
The Dolphins improved to 2-0 with the win, while the Patriots fell to 0-2. The Dolphins will face the Broncos in Denver next week, while the Patriots will host the Jets.