Ford Motor Co. announced on Tuesday that it will double the production of its F-150 hybrid pickup truck for the 2024 model year, as the company faces slower-than-expected sales of its all-electric vehicles. The automaker said it expects to increase the sales of the V-6 hybrid model to about 20% in the U.S., up from the current 10%. The hybrid version of the F-150, which combines a 3.5-liter V6 engine with an electric motor, offers 430 horsepower and an average fuel economy of 25 miles per gallon, according to the Environmental Protection Agency.
Ford's Hybrid Strategy
The move is part of Ford CEO Jim Farley's plan to quadruple the company's sales of gas-electric hybrids over the next five years, as Ford expands hybrid models throughout its lineup. Farley said in July that Ford is balancing growth, profitability and returns, while acknowledging that demand for its internal combustion and hybrid portfolio will be durable with the window of growth potentially longer and richer than most expected.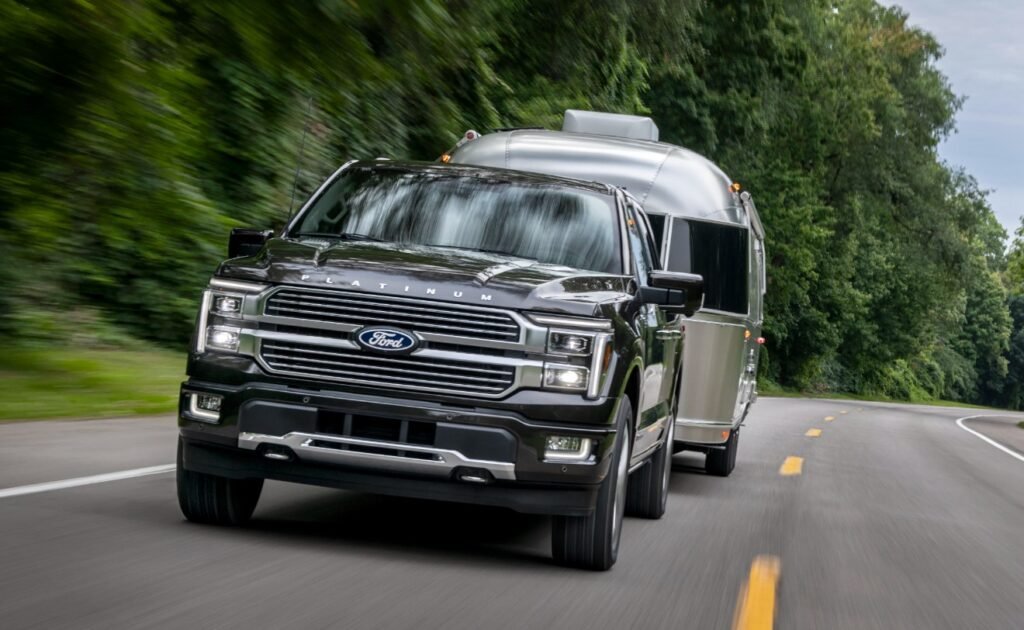 Ford introduced new versions of its F-150 hybrid and the gas-fueled F-150 model on the sidelines of the annual Detroit Auto Show on Tuesday, with freshened styling and new technology. The company said it will offer the hybrid model for a starting price of $55,000 plus destination and delivery charges, which is the same price as an equivalent gas-fueled model. Ford said it hopes to make the F-150 hybrid the best-selling hybrid in North America, a title currently held by Toyota Motor's RAV4 or Prius.
Ford's EV Challenges
The hybrid plans come as Ford is scaling back its ambitious production plans for its full-electric models, such as the Mustang Mach-E and the F-150 Lightning, which have faced supply chain disruptions and lower-than-expected consumer demand. Ford said in August that it will produce about 80,000 EVs this year, down from its original target of 100,000. The company also slashed prices on some of its EV models by up to $10,000 to attract more buyers.
Ford is facing stiff competition in the EV market from rivals such as Tesla, General Motors and Volkswagen, which have been investing heavily in battery technology and expanding their EV offerings. Ford has said it will invest $30 billion in electrification by 2025 and aims to have 40% of its global sales be electric by 2030. However, the company also recognizes that many customers still prefer gas-powered or hybrid vehicles, especially for heavy-duty tasks such as towing or hauling.
Ford's Labor Relations
Ford's hybrid production increase may also have implications for its labor relations with the United Auto Workers union, which represents about 146,000 workers at Ford, GM and Stellantis. The three automakers are in negotiations with the UAW to reach new contracts by Thursday night, or face possible strikes that could disrupt their operations. The UAW has been pushing for more job security and investment in U.S. plants, especially as the industry shifts to EVs, which require fewer workers and parts than traditional vehicles.
Ford's focus on hybrids may help preserve some engine manufacturing jobs for the union, as hybrids typically include internal combustion engines along with small batteries. However, the union may also demand a fair share of the profits that Ford makes from its hybrid vehicles, which tend to have higher margins than conventional models. Ford reported a record profit of $9.7 billion in the second quarter of this year, thanks in part to strong sales of its F-Series trucks.