The 78th session of the UN General Assembly (UNGA) kicks off on Tuesday, with more than 140 leaders and state representatives from around the world expected to address the most pressing issues facing humanity, such as the climate crisis, the war in Ukraine, the COVID-19 pandemic, and the humanitarian situation in Afghanistan.
The high-level General Debate, which is the most widely watched event in the UN's annual calendar, provides an opportunity for world leaders and heads of state to lay out their priorities for the coming year, urge cooperation on pressing issues, and often, call out their adversaries.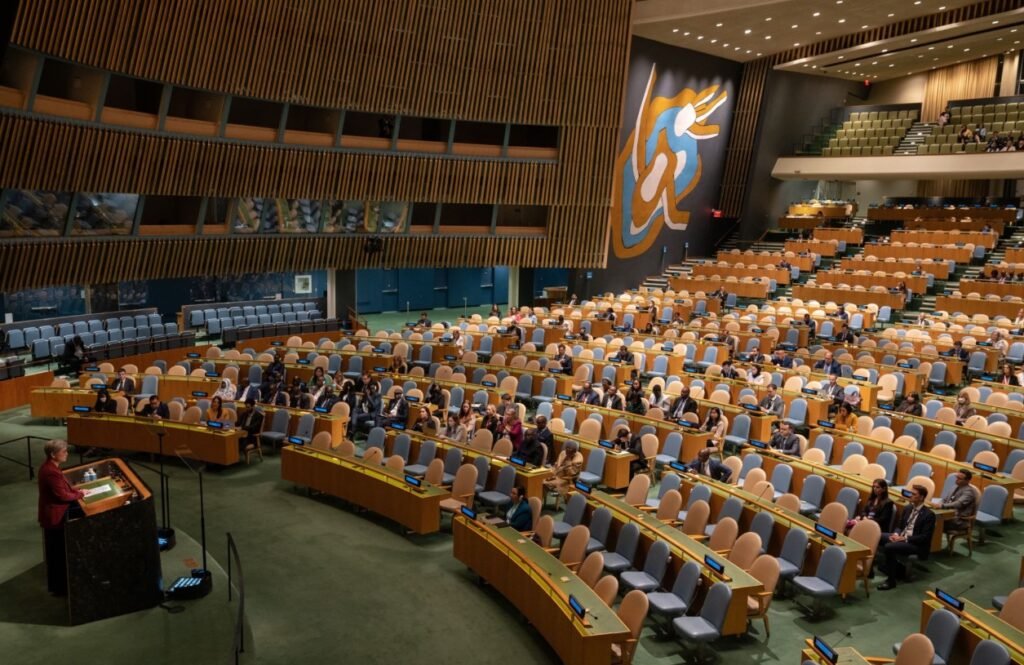 UN chief urges action and compromise
UN Secretary-General Antonio Guterres told reporters last week that this year's General Debate is a "one-of-a-kind moment each year for leaders from every corner of the globe to not only assess the state of the world but to act for the common good."
"And action is what the world needs now," he said, adding that this is not a time for "posturing or positioning", but for "compromise for a better tomorrow".
He said that the theme of this year's General Debate is "Rebuilding trust and reigniting global solidarity: Accelerating action on the 2030 Agenda and its Sustainable Development Goals towards peace, prosperity, progress and sustainability for all".
He also said that he will present his vision for a new social contract and a new global deal to ensure that power, wealth, and opportunities are shared more fairly and that people's rights and dignity are respected.
Brazil, US, Ukraine to speak first
According to the UN tradition, Brazil will deliver the first country speech on Tuesday, followed by the US as the host country. Brazilian President Luiz Inácio Lula da Silva is expected to make climate change a centrepiece of his address, as he has vowed to re-establish Brazil as a global leader in the environment and bolster the protection of the Amazon rainforest.
US President Joe Biden will make his debut at the UNGA as president, seeking to assert Washington's role as a global leader and a reliable partner. He is likely to address issues such as COVID-19 response and vaccine distribution, climate action, human rights, democracy, and multilateralism.
Ukrainian President Volodymyr Zelenskyy will also make his first in-person appearance at the UNGA since Russia invaded his country in 2022. He is expected to call for international support and solidarity in defending Ukraine's sovereignty and territorial integrity. He will also meet with Biden in Washington on Thursday.
Geopolitical divisions and rivalries
However, not all leaders of the permanent members of the UN Security Council will attend the UNGA in person. France's Emmanuel Macron, Britain's Rishi Sunak, China's Xi Jinping, and Russia's Vladimir Putin will send their representatives instead.
This reflects the growing geopolitical divisions and rivalries that are undermining the UN's capacity to respond to global challenges. The US-China competition, the Russia-Ukraine conflict, the Iran nuclear deal, and the Afghanistan crisis are some of the sources of tension and disagreement among the major powers.
The UNGA will also witness several bilateral meetings on the sidelines of the event, where leaders will try to find common ground or resolve disputes on various issues. For example, Biden is expected to meet with Macron to mend fences after a diplomatic row over a submarine deal with Australia. He will also meet with Australian Prime Minister Scott Morrison and Indian Prime Minister Narendra Modi as part of the Quad summit.
Other key events and topics
Besides the General Debate, there will be several other key events and topics that will feature prominently at the UNGA. Some of them are:
A Food Systems Summit on Thursday to transform how food is produced, consumed, and wasted.
A High-level Dialogue on Energy on Friday to mobilize action and investment for clean energy access and transition.
A meeting on Financing for Development on Monday to mobilize resources and support for developing countries.
A meeting on COVID-19 response and recovery on Wednesday to accelerate vaccine equity and strengthen health systems.
A meeting on Afghanistan on Monday to address the humanitarian crisis and political situation in the country.
A meeting on Libya on Friday to support the peace process and elections in December.
A meeting on Myanmar on Thursday to discuss ways to restore democracy and stability in the country.
A meeting on Haiti on Wednesday to address the humanitarian needs and political challenges in the country.