A viral video of a momo seller in Lucknow has caught the attention of the internet for his fluent English and unique chutney. The vendor, who is also an English professor, claims to make homemade momos with almond chutney and schezwan sauce.
The viral video of the momo seller
The video was posted by an Instagram user named Darpan Khurana, who is a food vlogger. In the video, he is seen interacting with the momo seller, who introduces himself as an English professor. The vendor speaks in impeccable English and describes his momos as "very hygienically prepared" and "the moment you will eat, you will come to know the taste of the ingredients as well as the fillings inside". He also says that he makes the flour and the outer layering of the momos himself, and that they are very thin.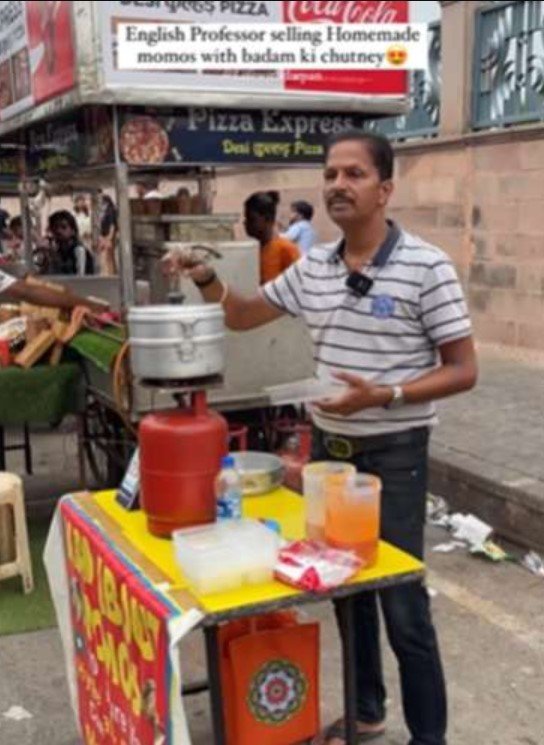 The video has garnered over 11.5 million views on Instagram and has been shared by many other social media platforms. Many people have praised the vendor for his entrepreneurial spirit and his command over the language. Some have also suggested that he should start teaching IELTS or open a coaching centre for English.
The story behind the momo seller
According to Darpan Khurana, the momo seller is a professor at a private college in Lucknow. He started selling momos during the lockdown as a side business to support his family. He said that he learned how to make momos from YouTube videos and experimented with different recipes. He came up with the idea of almond chutney, which he claims is very healthy and tasty. He also added schezwan sauce to give a spicy twist to his momos.
The vendor sells his momos at Chatori Gali, a famous street food hub in Lucknow. He operates from 4 pm to 6 pm every day and sells 10 pieces of vegetarian momos for Rs 100. He said that he manages to sell out his entire stock within two hours, thanks to his loyal customers and word-of-mouth publicity.
The popularity of momos in India
Momos are steamed dumplings that originated in Tibet and Nepal. They are filled with minced meat or vegetables and served with spicy sauces or soups. They are a popular street food in many parts of India, especially in the north-eastern states and Delhi. Momos have also been adapted to suit different regional tastes and preferences. For instance, there are tandoori momos, cheese momos, chocolate momos, and even pizza momos.
Momos are considered to be a healthy snack as they are steamed and low in fat. They are also easy to make and can be customized with various fillings and sauces. Momos are a favourite among youngsters and college students who enjoy them as a quick bite or a hangout option.
The trend of viral food videos
The video of the English professor selling momos is not the first one to go viral on social media. There have been many instances of food vendors or stalls gaining fame and popularity due to their unique offerings or stories. For example, Baba Ka Dhaba, a small eatery in Delhi, became an overnight sensation after a video of its elderly owners struggling to make ends meet during the pandemic went viral. Many celebrities and influencers visited the dhaba and promoted it online, leading to a surge in customers and donations.
Similarly, there have been videos of vendors selling unusual dishes like Mexican pani puri, Fanta Maggi, curd gulab jamun, etc. These videos have attracted curiosity and criticism from netizens who have expressed their opinions on these food experiments. Some have appreciated the creativity and innovation of these vendors, while others have slammed them for ruining the original dishes or compromising on hygiene.