On 5/6/2023, a billboard of King Charles and General Sir Mike Jackson reading 'England's bloody empire' has surfaced in Derry. The billboard was created by the Bloody Sunday group, a group that seeks to commemorate the tragic events of January 30th, 1972 when members of the British Army opened fire on unarmed civil rights protesters in Northern Ireland.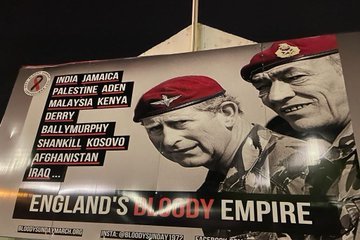 U2's "Sunday Bloody Sunday"
The event inspired the song "Sunday Bloody Sunday" by Irish rock band U2. The song is the opening track from their 1983 album War and was released as the album's third single on 21 March 1983. Bono, lead singer of U2, remembers this event fondly and has said that it "was a very powerful moment for me because it reminded me that even though we had been through so much pain, we could still make something beautiful out of it."
Bono & The Edge Perform Unplugged Version
In 2020, Bono and The Edge released an acoustic take of "Sunday Bloody Sunday" with updated lyrics to reflect current events. This version was performed unplugged at various venues throughout Europe during their Joshua Tree tour.
Locals Horrified by Anti-Catholic Graffiti
Unfortunately, not everyone is happy about this billboard being put up in Derry. Locals have expressed horror at anti-Catholic graffiti which reads "No Fenians Welcome" which was found nearby. It is unclear who is responsible for this graffiti but it serves as a reminder that hatred still exists in many places around the world today.