Libya has been hit by a devastating storm that caused massive flooding in several coastal towns in the east of the country. The storm, named Daniel, made landfall on Saturday night and brought heavy rainfall and strong winds that broke dams and swept away entire neighborhoods.
The destruction appeared greatest in Derna, a city formerly held by Islamic extremists in the chaos that has gripped Libya for more than a decade and left it with crumbling and inadequate infrastructure. Libya remains divided between two rival administrations, one in the east and one in the west, each backed by militias and foreign governments.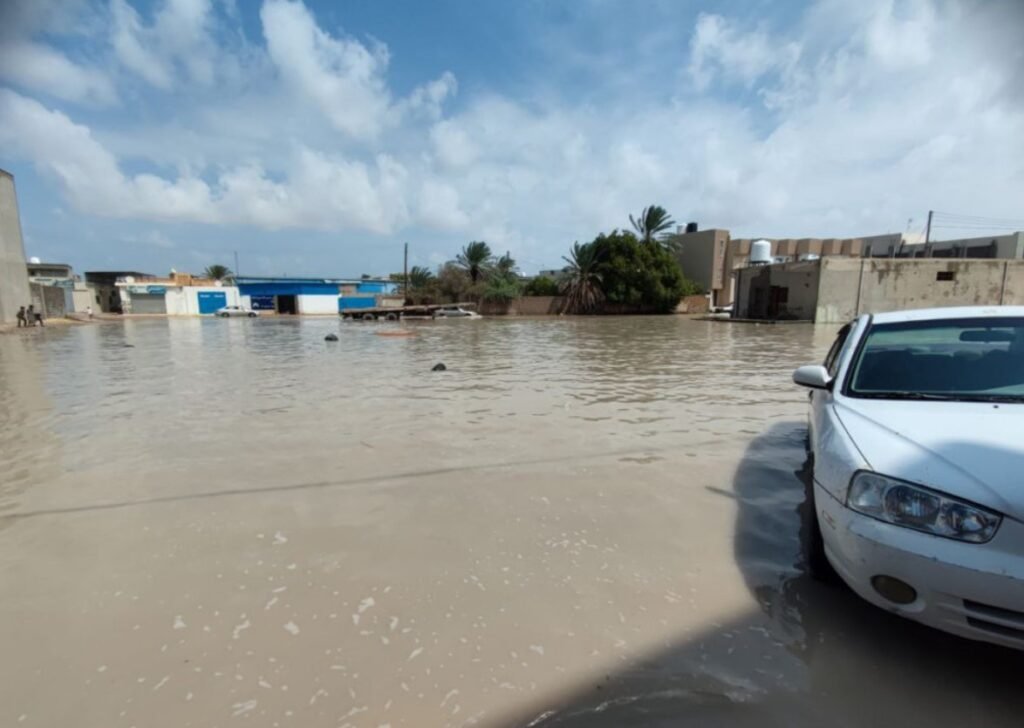 The confirmed death toll from the weekend flooding stood at 61 as of late Monday, according to health authorities. But the tally did not include Derna, which had become inaccessible, and many of the thousands missing there were believed carried away by waters after two upstream dams burst.
Video by residents of the city posted online showed major devastation. Entire residential areas were erased along a river that runs down from the mountains through the city center. Multistory apartment buildings that once stood well back from the river were partially collapsed into the mud.
Derna declared a disaster zone as death toll rises
In a phone interview with the station Monday, Prime Minister Ossama Hamad of the east Libyan government said 2,000 were feared dead in Derna and thousands were believed missing. He said Derna has been declared a disaster zone.
Ahmed al-Mosmari, a spokesman for the country's armed forces based in the east, told a news conference that the death toll in Derna had surpassed 2,000. He said there were between 5,000 and 6,000 reported missing.
Al-Mosmari attributed the catastrophe to the collapse of two nearby dams, causing a lethal flash flood. He said the dams were built by Italian colonizers in the 1930s and had not been maintained since then.
He also blamed the previous governments for neglecting the infrastructure and allowing illegal construction along the river banks. He said his forces had warned residents to evacuate before the storm but many did not heed their calls.
Other towns affected by flooding as rescue efforts continue
The flooding also affected other towns in eastern Libya, such as Bayda, Susa, Marj and Tobruk. The Libyan Red Crescent said it lost contact with one of its workers as he attempted to help a stuck family in Bayda.
At least 46 people were reported dead in Bayda, Abdel-Rahim Mazek, head of the town's main medical center said. Dozens of others were reported missing, and authorities fear they could have died in the floods that destroyed homes and other properties.
Over the weekend, Libyans shared footage on social media showing flooded houses and roads in many areas across eastern Libya. They pleaded for help as floods besieged people inside their homes and in their vehicles.
Ossama Hamad, the prime minister of the east Libya government, declared a state of emergency Saturday and suspended classes as a precaution ahead of the storm. He also appealed for international aid and assistance to cope with the disaster.
Controlling eastern and western Libya, Cmdr. Khalifa Hifter deployed troops to help residents in Benghazi and other eastern towns. Ahmed al-Mosmari, a spokesperson for Hifter's forces, said they lost contact with five troops who were helping besieged families in Bayda.
He said his forces had rescued more than 1,000 people from flooded areas and provided them with food, water and shelter. He also said they had sent helicopters and boats to search for survivors and bodies in Derna.
Storm Daniel expected to move westward as Libya reels from disaster
The storm is expected to move westward along the Mediterranean coast and affect parts of western Libya and neighboring Tunisia. The Libyan meteorological authorities warned about possible rain and bad weather in Tripoli and other western regions.
The storm has also caused power outages and disrupted communication networks in some areas. The Libyan National Oil Corporation said it had reduced oil production by 70,000 barrels per day due to the storm.
Since a 2011 uprising that toppled and later killed long-time ruler Moammar Gadhafi, Libya has lacked a central government and the resulting lawlessness has meant dwindling investment in the country's roads and public services and also minimal regulation of private building.
The country is now split between rival governments in the east and west, each backed by an array of militias. Derna itself, along with the city of Sirte, was controlled by extremist groups for years, at one point by those who pledged allegiance to the Islamic State group, until forces loyal to the east-based government expelled them in 2018.
The flooding has added to the woes of millions of Libyans who have been suffering from years of conflict, insecurity, corruption and economic crisis. Many have expressed their anger and frustration at the authorities for failing to protect them from the natural disaster.